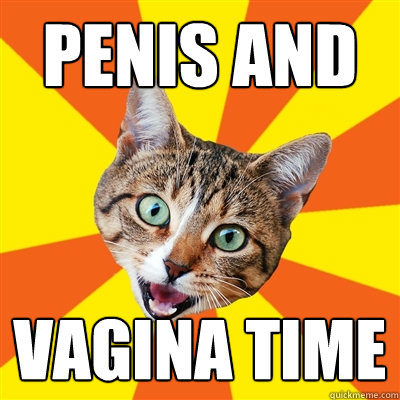 So today at work I started research for our production of
The Vagina Monologues
. I searched for nicknames for .. well,
vaginas
. First of all, I'd like to start this blog out with
one rant
.
I'm irritated that people call the whole crotchie region of women a vagina
, like the whole thing is this one thing. Is that what's wrong with women having to FAKE ORGASMS?
What is it, a damn black hole or something?
A VAGINA IS A HOLE. My clit is not my vagina and my urethra is not my vagina.. so why is the whole thing referred to as a vagina?
Okay, done.
I found a
website
or kind of a thread I guess, with a TON of vagina nicknames. I feel like I need to post some of them so here you are:

vagina, pussy, bearded clam, vertical smile, beaver, cunt, trim, hair pie, bearded ax wound, tuna taco, fur burger, cooch, cooter, punani, snatch, twat, lovebox, box, poontang, cookie, fuckhole, love canal, flower, nana, pink taco, cat, catcher's mitt, muff, roast beef curtains, the cum dump, chocha, black hole, sperm sucker, fish sandwich, cock warmer, whisker biscuit, carpet, love hole, deep socket, cum craver, cock squeezer, slice of heaven, flesh cavern, the great divide, cherry, tongue depressor, clit slit, hatchet wound, honey pot, quim, meat massager, chacha, stinkhole, black hole of calcutta, cock socket, pink taco, bottomless pit, dead clam, cum crack, twat, rattlesnake canyon, bush, cunny, flaps, fuzz box, fuzzy wuzzy, gash, glory hole, grumble, man in the boat, mud flaps, mound, peach, pink, piss flaps, the fish flap, love rug, vadge, the furry cup, stench-trench, wizard's sleeve, DNA dumpster, tuna town, split dick, bikini bizkit, cock holster, cockpit, snooch, kitty kat, poody tat, grassy knoll, cold cut combo, Jewel box, rosebud, curly curtains, furry furnace, slop hole, velcro love triangle, nether lips, where Uncle's doodle goes, altar of love, cupid's cupboard, bird's nest, bucket, cock-chafer, love glove, serpent socket, spunk-pot, hairy doughnut, fun hatch, spasm chasm, red lane, stinky speedway, bacon hole, belly entrance, nookie, sugar basin, sweet briar, breakfast of champions, wookie, fish mitten, fuckpocket, hump hole, pink circle, silk igloo, scrambled eggs between the legs


That's not even a third of the list, just so you know. My personal favorites? Fuckpocket. Hump hole. Scrambled Eggs Between the Legs. Grumble. and my favorite from the list above? Cock-chafer. Hahaha.
Why do we have nicknames for our vaginas? I searched for penis nicknames and
JESUS CHRIST I found a ton
! We're not talking about penis, though. Are we?
So why do we feel like we have to call our vagina's by other names?
Are we ashamed?
Do we hate the word vagina? I mean, it isn't necessarily a pretty word, is it? But is Hairy Doughnut a better name for it? No. Not at all. That's fucking sick.
This got me thinking. Thinking about whether or not I often use nicknames for my privates and I realized.. I'm guilty. I like mine though! I either use 'pussy', 'crotch', 'peepee' or 'ladybits'. Those aren't horrible right?
What do you think about this whole topic?
Do you think it means we're ashamed or does it mean that we're finally comfortable enough to talk about our... ladybits?
Stay tuned for next week's post about sex! Fetishes? Sexual fluidity? Stay tuned!
xoxo
CORTNIE
ps What do you call your vagina?