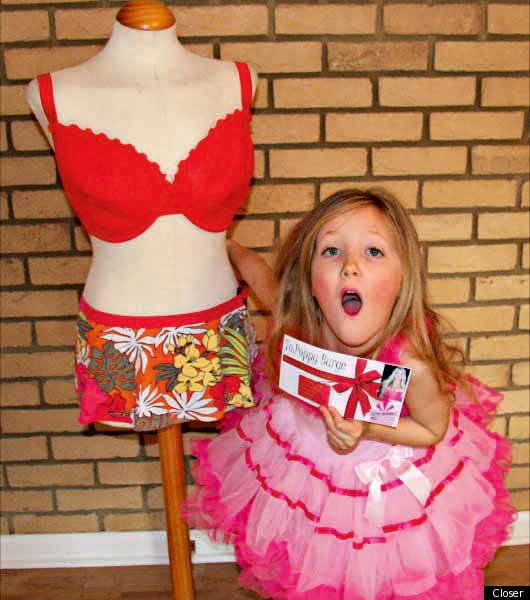 Okay, so I'm sure a lot of you have seen the
Barbie Mom
by now. This mother, named
Sarah Burge
gave her 7 year old daughter a liposuction voucher for Christmas.
Whoa, mom! That's so sweet!
She also gave her a voucher for a boob job for her birthday, as the
Huffington Post
wrote about this past June, valued at
$10,000
.
That's a year of school for me!
What the fuck?! I almost have no words.
Almost
.
First of all, this
Sarah-Burge-Plastic-Surgery-Woman
was quoted:

"She asks for surgery all the time. She wants to look good... I see these vouchers as investing in her future - like saving money for her education. Poppy begged me for a boob job, so I gave her the voucher so she can have it after she's 16, when it's legal. If she develops naturally big boobs, she can have something else done with it."


Well, I wonder
why your daughter wants plastic surgery?
Maybe because you're addicted to plastic surgery and probably talk about your body constantly? If a
200 pound 8 year old was taken from his family
(which I agree, was extreme) then how does this mother still have her child if she's basically giving her gift cards to the plastic surgeon's office to go under the knife and
cut her body up
? She's investing in her daughter's future? And if her daughter normally grows up to have big breasts then she can use the voucher for something else.. like, I don't know, Botox at 16? Don't even get me started on the mother's comment about "when it's legal," jeez.
The sad thing?
This girl has grown up like this and now begs for plastic surgery so that she can look
perfect
like her mother.

"All my friends were jealous. I can't wait to be like Mummy with big boobs. They're pretty."


God damnit, people. Shit!
What do you think?
xoxo
CORTNIE